Deepen Connections. Spark new ideas. Inspire Action.
Launched in September 2016, Co-Creating Opportunity was borne from a belief that expanding economic opportunity in Baltimore is a game-changer for the future of the city. Leaders across the city were already shaping strategies to grow economic opportunity, build community wealth, strengthen neighborhood businesses, resource diverse entrepreneurs, and prepare our workforce. Co-Creating Opportunity challenged participants to think bigger — "How can we grow these efforts through collaboration?"
The format of the event followed the Community Design Lab format developed by the Impact Hub Baltimore team and engaged 80 attendees, as well as 11 leaders of economic opportunity work in the city. These leaders included individual social entrepreneurs, community developers, large nonprofits, grassroots organizers, service providers, and government programs. Initiatives ranged from the idea stage to re-imagining large, resourced programs. They each address economic opportunity from a unique angle, supporting different groups including youth, moms, makers, formerly incarcerated, under-resourced neighborhoods, Latinos, and small business owners.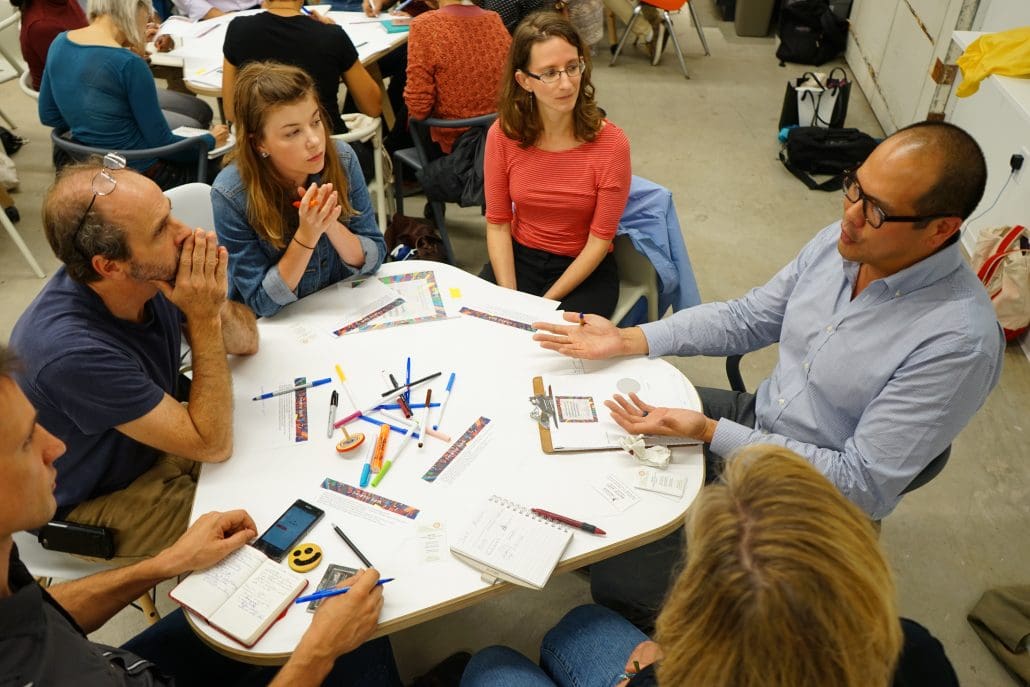 Featured leaders had a chance to present their work to new audiences, generate new ideas, and increase their focus on particular initiatives or outcomes. Facilitated conversations were centered around a specific question or challenge each person faced in their work; ranging from "How might we market and sell the work of young black artists by focusing on their talent and creativity rather than their traumatic stories of struggle, racism, and oppression?" to "How might we expand opportunities for the formerly incarcerated to build self-sufficiency by engaging the tech industry and civic coding community?" During the course of various sessions, participants voiced their ideas, connections and support to strengthen featured initiatives.
At the closing of the event, leaders and attendees alike were asked to reflect on their experiences engaging in Co-Creating Economic Opportunity. Getting to meet new people with diverse backgrounds in a collaborative and supportive environment was a strong underlying sentiment. Other participants also cited the opportunity to learn about the "multitude of different initiatives happening in Baltimore" and the intimacy of conversations. Lastly, leaders highlighted the opportunity to present new ideas to different audiences and gaining new perspectives.
Impact Hub Baltimore was one of fifteen cities within the regional North America Impact Hub Network looking to create change through collaboration during the series titled "Co-Creating the Future of Our Cities."
>> Read more about Co-Creating the Future of Our Cities here!